van Persie and Arshavin Propel Arsenal to Stunning Comeback
10 months ago, Barcelona marched to the Emirates Stadium for the Champions League Quarter Final and produced a magnificent performance; one which left a naive Arsenal limp and powerless for 70 minutes, before the home side managed to complete a comeback before being stuffed at the Nou Camp by a Lionel Messi masterclass.
This year, it looked as though things may be different for Arsenal. They were stronger than they had been the year before and were certainly more capable of giving the Catalans a contest; but unfortunately for them, Barça were stronger too. It made for a fascinating encounter, and one that promised entertainment and unpredictability in equal measure. 
In the very early stages, it was Arsenal who bossed proceedings, taking the game to Barcelona. They had created a decent chance with Theo Walcott advancing towards the box, squaring to Cesc Fàbregas, who chipped a neat ball over to Robin van Persie. The Dutchman let fly from a tight angle and the effort was dealt with by Victor Valdes. But so far for Arsenal, there was much by which they could be encouraged. Then Barcelona sprang into gear and Arsenal were well and truly on the back foot. For a concentrated period of around 20 minutes in the first half, they barely touched the ball. Alex Song gave the ball to Andrès Iniesta. Iniesta played it to Messi; one touch back to David Villa; Villa controls the ball, then sends a pass through to Messi who was now clean through on goal - one sloppy pass on the halfway line and five touches later, the World's best player was bearing down on Arsenal's goal. The Emirates held its breath. Wojciech Szczesny stood his ground as the Argentina approached and he lifted the ball towards the Polish 'keeper's far post. Still, the Emirates was silent until the ball just sneaked past the post. The fans breathed a huge collective sigh of relief and returned to the chants and songs that they sang throughout the night. There was an element of disbelief that Messi had missed it, but credit must be given to Szczesny. In the fixture last year at the Emirates, the cause of Barcelona's first goal sprung from Manuel Almunia's indecision as to whether to commit to the ball or stay on the line. Being caught in two minds, he was chipped by Zlatan Ibrahimovic. Szczesny, despite his lack of experience, did not make the same mistake.
Villa and Messi had decent efforts blocked before Arsenal stormed forward on the counter attack. Jack Wilshere, one of the evening's star performers, slid a pass to Walcott; the Englishman charged into the Barcelona half and played a through ball straight through to Fàbregas. The pass went slightly closer towards the goal than Arsenal would have wished, so being in a difficult shooting position, Arsenal's Captain chose to square the ball to van Persie, but the cross was intercepted by Eric Abidal. Had the Frenchman not prevented the ball from reaching van Persie, it was almost definitely 1-0 to Arsenal. This rare attack was a sign of the threat Arsenal posed on the counter.
Then came the first goal and it was almost a perfect example of a 'Barcelona goal.' Xavi Hernandez, Captain in the absence of Carles Puyol, played a simple pass back to Sergio Busquets; he passed it to Piqué; Pique forwarded it to Messi, who galloped through the Arsenal defence, then slid the ball to Villa and the Spaniard made no mistake. Barcelona were 1-0 up and deservedly so. Beating Barcelona was always going to be a monumental task for Arsenal, but it had just become several degrees more difficult. 
The home side, to their credit, reacted well to going a goal down and continued playing as they had. What seemed a golden opportunity came when Jack Wilshere darted through the centre of the field and knocked a simple ball out side for van Persie. The Dutchman had a good opportunity, but was closed down after taking one touch too many and ended up slicing his shot into the Clock End. After a weekend in which they had wasted many good chances against Wolves (despite a 2-0 victory), common opinion was that good chances such as those must be taken against the visiting Spanish champions. Perhaps this was to be a moment of rue on which Arsenal were to look back. But then a huge stroke of good fortune came the Gunners' way when Messi had a goal wrongfully ruled out for offside, but the whole move provided something which could cause worry for Arsenal, as they were completely split again by the passing of Barcelona - something that needed to be rectified if they held any hope of emerging victorious over the two legs.
This was the last of the first half's notable action and upon the second half, there seemed a new impetus about Arsène Wenger's team. Jack Wilshere, again marauding forward from midfield exchanged a one-two with van Persie before sending a frankly tame effort towards Victor Valdes. Nonetheless, it provided hope for the home team. However, Arsenal were never going to prevent the Catalans from attacking and simple ball over the top released Pedro. As he advanced towards Szczesny, Laurent Koscielny, on the night of his best Arsenal performance to date, raced back and caught up with him, nudging him from the ball and despite the soft contact, Pedro threw himself to the floor. A good call from the referee saw no penalty awarded, but another worrying sign for Arsenal to counter the good signs they witnessed going forward. 
Messi was handed another good chance when he charged into Arsenal's box before his effort was blocked by Djourou, but a poor clearance from Emmanuel Eboué gave the ball to Iniesta. He played a pass straight through the Arsenal players to Messi and under pressure from Szczesny, the Argentine fired into the side netting. Another huge sigh of relief was emitted by the home faithful. 
Despite looking better in the second half, change was needed for the home side. With Alex Song on a yellow card and Barça players dropping like flies whenever they were within a metre radius of the Cameroon international, he was replaced by Andrey Arshavin, whose form had undergone a significant improvement in recent weeks and was a man who was definitely capable of swinging the game in Arsenal's favour. But it was Robin van Persie who got the goal that drew Arsenal level. Gaël Clichy received a cross-field ball and marched into Barcelona's half. He played a short ball to Arshavin, who tried to make a run at Dani Alves. The Brazilian tackled him and the diminutive Russian sent the ball back to Clichy. One right footed chip ball later from Clichy and the ball was in the box for van Persie. He had Nicklas Bendtner coming across but ignored him in favour of exploiting the gap left by Valdes at his near post. It was a stunning angle from which to score and a marvellous finish. Arsenal were back on track and Barcelona looked stunned.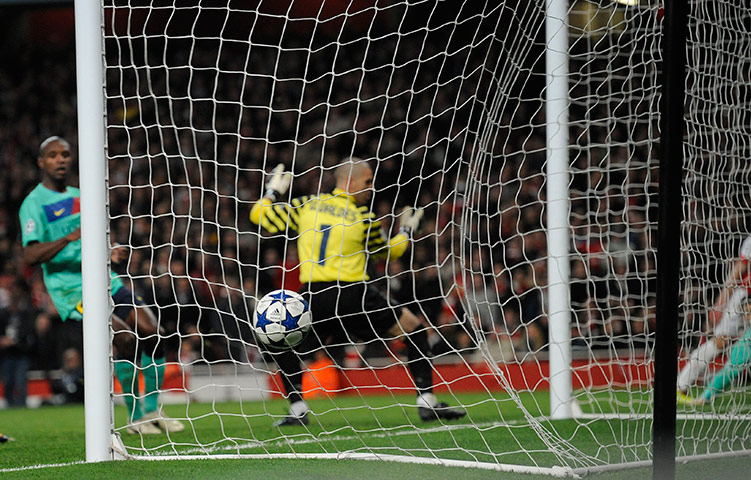 Another poor clearance from Eboué gave the ball to Busquets and Barcelona poured forward yet again. The visitors played the ball around Arsenal's area but Koscielny's interception halted the move. He gave the ball wide to Bendtner. Bendtner drifted inside and got the ball to Wilshere; one touch to Fàbregas from the 19 year old; the Captain spun on the ball and saw Samir Nasri racing behind Alves and sent him a magnificent pass with the outside of his right boot. Nasri found himself alone on the right hand side of the box and turned inside, looking for support. He had van Persie infield, but ignored him in favour of Arshavin. Arshavin just clipped the ball past Victor Valdes in the most nonchalant way possible and the Emirates Stadium erupted. In the four and a half years of the Stadium's life, there has never been an atmosphere so raucous and the moment when Arsenal's second goal was converted was probably the loudest sound ever recorded in the Stadium. 
The game was far from over at 83 minutes and on the evidence of what had beenm seen so far, Arsenal could not afford to slip - Barcelona could definitely still level proceedings. Szczesny was forced into a save from a Daniel Alves effort and managed to gather up a dangerous low cross. The final whistle blew and a combination of relief, delight and pride formed on the part of the Arsenal players and fans, while for Barcelona, and especially Josep Guardiola, who hauled off David Villa in favour of Seydou Keita while Barcelona led 1-0, the feeling was regret - regret that they had not propelled themselves into a stronger position ahead of the home leg and regret at allowing Arsenal back into the game. Though the betting odds are still in their favour and they are in possession of a formidable home record, Arsenal will bring belief with them to the Nou Camp, and after this result, the possibility of a shock has only risen. 
The two men who symbolised Arsenal's fight and determination were the aforementioned Wilshere and Koscielny. Wilshere was so comfortable on the ball amongst the finest central midfielders in the World in Xavi and Iniesta and he showed a range of passing reminiscent of the World Cup winners. What also rescued Arsenal on many occasions was his ability to link defence and attack, which prompted a number of counter attacks for Arsenal and indeed, his one-touch pass to Fàbregas allowed him to feed Nasri in the move for the second goal. While Koscielny was largely able to keep Lionel Messi under wraps and he too showed an ability to play the ball from defence. He produced excellent clearances, interceptions and tackles, the best of which was a first half incident in which John Djourou played a very poor ball straight to Xavi. As Xavi played it in the direction of onrushing Pedro, Koscielny darted towards it and averted a potentially huge problem for his team. Throughout the game, he was always charging down the ball and without him, it could have been a very sorry state of affairs post-game for Arsenal.
The stats lean well in Barcelona's favour and are a definite reflection of their overall dominance. They had 61% of the possession while Xavi and Iniesta completed 200 passes, compared to just 88 from Fàbregas and Wilshere. But a further glance over these records show that Xavi didn't (directly) create a single goalscoring opportunity, while Wilshere and Iniesta made one each and Fàbregas made 3. A criticism often levelled at Arsenal in the Premier League is "What use is having all the ball if you're not going to make chances?" The teams had the same number of shots on goal (the home side had one more on target) and in the end, Arsenal came away as victors. For however much Barcelona dominated and deserved more than they got, Arsenal's spirit and defending must be admired. 
There is still a massive task for Arsenal to retain their lead at the Nou Camp, but if they have a full squad, they are more than capable. They certainly have the ability, but Barcelona are just as able, if not more so, to overturn the deficit. But in terms of quality of football from both teams, this was one of the finest games of the last decade, if not the finest. It was a battle between two very similar philosophies and it made for spectacular viewing. If the second leg has anything close to the intensity and quality of the first leg, it may go down as one of the greatest Champions' League ties since the competition's formation. Arsenal celebrate their historic night, but it is only half over; far stranger things have happened, but it will be an almighty task.