Goodbye, Cesc Fàbregas
We all knew it would eventually happen. It was always only a matter of time until Cesc Fàbregas re-signed for Barcelona, but we, as Arsenal fans, cannot begrudge his move and our memories of him should not be clouded by his departure.
For the record, I believe he has made a huge mistake in returning now. He's always going to be second in line to Xavi Hernandez and Andrès Iniesta (despite being better than the former), while the new contract awarded to Thiago Alacantra will go its way to securing him extra playing time; possibly leading to him being played ahead of Fàbregas.
But he has not betrayed Arsenal in any way, nor has he acted inappropriately. When compared to Liverpool's 'Captain Marvel', 'Leader' and 'Inspirational Figure' Steven Gerrard, who has submitted numerous transfer requests and made so many threats to leave that I've lost count, and yet is still adored by the Anfield faithful, you cannot fault Fàbregas at all.
It's worth noting that Fàbregas is from Barcelona, supported them growing up and played in their academy in his youth. By the sounds of it, he really just wants to go home. He began his trade at La Masia with the likes of Gerard Piqué and Lionel Messi, while he retains friendships with Xavi, Carles Puyol and Sergio Busquets, to name but three. His family dwell in Barcelona and it's his home. Any Arsenal fan thinking of criticising him should put themselves in his position - how many of them would turn down moves to Arsenal?
Rather than denigrate Fàbregas, we should remember the good times; the talent he displayed and the joy he provided. His arrival came in 2003/04, when he became Arsenal's youngest ever appearance maker and goalscorer. In 2004/05, when he burst onto the scene and became the club's youngest ever League and Champions League goalscorer, going on to win the FA Cup - the only trophy in his time in North London. In 2005/06, Patrick Vieira was sold to make way for the then 18 year old. He was instrumental in the Champions League campaign that took Arsenal all the way to the final. All the while he was growing into a World class player. 2006/07 was a more quiet season for the club and Fàbregas, but he started every league game and made 16 assists. His stock was growing across Europe as Arsenal and he resisted overtures from the likes of Real Madrid, Milan and Barcelona.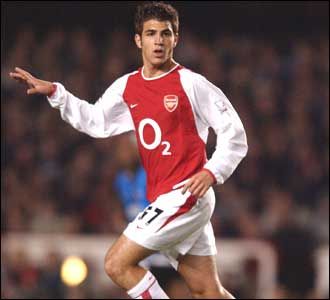 2007/08 was the mark of a break even further forward for the Spaniard. As Thierry Henry and Freddie Ljungberg left, Fàbregas became the key creative influence in the side and he did not disappoint. Arsenal were the surprise packages of the season, taking the league by storm. They played a fantastic brand of free-flowing, attacking football and the 20 year old Cesc Fàbregas was the fulcrum of the side. They were looking sure favourites to win the league until Eduardo's horrific injury at St. Andrew's where, as we can all remember, it completely fell apart. Fàbregas made 22 assists and grew as a goalscorer, too, scoring 13 - a record for him in a season. He was crowned PFA Young Player of the Year. Over the summer, he won the European Championships with Spain, having a  pivotal role as an impact sub. 2008/09 was his first season as 'El Capitan', after William Gallas was stripped of the role. However, he was ruled out for four months with knee ligament damage and would not return to action until March. His presence was sorely missed, and Arsenal had another trophyless season.
If ever conformation of Fàbregas's brilliance was needed, the 2009/10 season provided it in spades. In the first game alone, he racked up two goals and two assists, as Arsenal demolished Everton 6-1. He continued to score goals and provide assists - with a joint total of 38 (19 each, respectively), growing as a leader and an on-field presence. He was the subject of intense transfer speculation and the rumours of his departure were stronger than ever, and he certainly didn't go out of his way to deny it, as he had in previous seasons. Meanwhile, he was crowned a World Cup winner, setting up the goal in the final. Arsenal held out and he remained with them for another season. At the start of his final season, his commitment could certainly not be doubted, but as injury set in and he was constantly rushed back too quickly, did was not the Cesc Fàbregas we had seen in years past. I attribute the injury he picked up against Stoke on February 23rd as the key reason Arsenal fell to Birmingham in the Carling Cup final. After that, we never really saw a fully fit Fàbregas again. His time at Arsenal ended with a whimper, rather than the roar it deserved, his final game being the 2-1 defeat to Bolton.
His talent is undeniable. His professionalism is, too. He's shown a love, respect and affection for Arsenal, only topped by his adoration of Barcelona. The pleasant times El Capitan gave us must be remembered above all else. His first goal, making him the club's youngest ever scorer. His announcing of himself onto the English football scene with his domineering show against Manchester United in the 2004 Community Shield. His defiance of his youth throughout his time, playing like someone with so many more years of experience behind him.
A personal favourite memory of Fàbregas is his stunning show against Juventus in the 2005/06 Champions League quarter final. He ran the rule over Patrick Vieira, the man who he had just replaced, and topped his performance with a goal. His 25 yard stunner against Tottenham and the 35 yard winner at the San Siro in 2007/08 are both well worth remembering. Though my standout memories of Fàbregas will be the goals against Spurs, Aston Villa, and Barcelona, respectively, in the 2009/10 season. I always enjoy a victory against Spurs, but the two goals in eleven seconds was a wonderful memory. As I was still celebrating Robin van Persie's goal, I turn around and see the ball trailing into the net and Fàbregas wheeling away in delight. He'd managed to humiliate Spurs in less than five touches. The Villa goal was an example of a Captain doing his job. Arsenal were struggling for a goal and he produces a moment of magic. Simple.
The Barcelona goal was another special moment. Against his hometown club, with the pressure of millions watching and a broken bone in his leg, he smashed home his penalty. Fantastic show of grit, determination and passion, all of which Fàbregas embodies, along with style and magnificent technique and vision.
He is leaving the club at 24, with just one FA Cup to his name - much like a certain Liam Brady, who is undoubtedly one of the club's legends, and to suggest otherwise is near-blasphemy (and rightly so). Although it is probable that the manner of Fàbregas's departure will mean that he is not recognised as a legend - not straight away, at least.
Some may wish him ill in the future. They shouldn't, he's been a great player for us, and one who has fitted with the class on which Arsenal Football Club has always prided itself. (And even if you dislike him, remember - if he does well, Barcelona will have to pay up more!). No one can begrudge his desire to go home, all we can do is wish him the best of luck and thank him for the service he has done for us.